Curriculum
The children are at the heart of our curriculum.
We believe that every child should have the opportunity to develop and build their self-esteem and self-confidence. We encourage our children to have high aspirations and strive for the best. We want our children to be responsible and effective by the time they finish their journey at Handale Primary school and move onto the next phase of their lives.
At Handale Primary School, we want our curriculum to interest children and enable them to flourish both academically and socially by ensuring our curriculum is planned progressively in order to meet the needs of all learners. In order to achieve this, we provide a curriculum that is broad, balanced, relevant and differentiated to provide for varied abilities. We aim to identify and remove barriers to learning and provide suitable learning challenges that respond to diverse needs, including those of the most able. Our curriculum has been designed to meet the needs of our children, in our school, in our local area.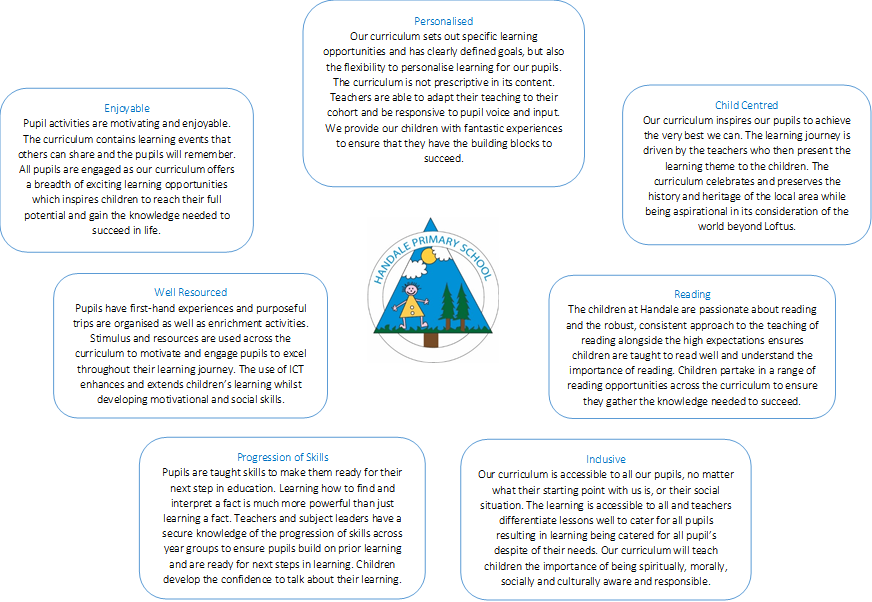 To view our long term plans, please visit the year group pages.
To find out more information regarding each subject, please visit the individual subject pages.
Our school curriculum is carefully and sequentially planned of high quality to show progression across the school. When children make progress, they know more and remember more: the impact of good quality teaching. The sequence of learning for each subject at Handale Primary begins as soon as the children join our school in EYFS. Subject leaders have worked tirelessly to ensure that even though the National Curriculum objectives formally start in Year 1, they have carefully made the links with the recently updated Early Years Curriculum. Our curriculum plans set out what we believe as a school our children need in order to develop the cultural capital that they need to develop in order to be successful in life beyond primary school. For all children, but particularly the most disadvantaged, it is vital that children leave Handale Primary School with the knowledge and experiences they need in order to continue to succeed.

At Handale Primary School we work effectively to ensure that knowledge is embedded before learning new skills and concepts. Every time a pupil encounters a word they have previously learned, but applied in a new context, it adds to the complexity of their understanding of that concept. When pupils lack prior knowledge, they may find it difficult to learn new knowledge or skills, because their short-term, working memory is likely to become temporarily overloaded. If they are able to draw on their long-term memory, they are much more likely to learn and make progress. Research shows that we learn by relating new knowledge to what we already know. Therefore, the more pupils know, the more they have the capacity to learn.
Our Approach to Retaining Knowledge
Children cannot remember all that is taught to them, in every lesson in every subject. However, through the implementation of 'Sticky Knowledge', as a school we have made it clear exactly which information must be remembered in order to build a firm foundation for future learning. Subject curriculum plans detail what is to be remembered in all year groups matching carefully to the progression of skills and National Curriculum objectives.
From Reception onwards, each class build a 'Map of Knowledge'. After each unit of work is completed, the key learning is displayed in the classroom which is progressively built up into all of the key learning from the year. The knowledge is colour coded according to the term and grouped carefully into different subject areas. At the end of the year the 'Map of Knowledge' is passed to the next class – as a record of what children should know and remember – and from what the teacher can effectively build upon. The knowledge maps are frequently used to quiz the children in order to keep the key knowledge alive in children's brains. Opportunities include morning tasks (8:30am – 8:50am), lining up, assembly and at the start and end of lessons. When new topics are introduced, it is expected that the prior learning that the new content is building on will be revisited and revised at the beginning of the unit of work to ensure a firm foundation and progressive journey through the curriculum. Teachers are expected to draw links from prior and future learning throughout their teaching in order to strengthen children's schemas in relation to identified key concepts over time. In order for us to check prior knowledge at the start of a new topic, children complete a pre-assessment. This is written and recorded in books in Science, Geography and History and verbal in other curriculum areas. At the end of a topic, children complete a 'Gold Piece of Work' to assess their understanding. More recently, we have implemented a 'Knowledge Day' where children explore and recap previous learning from the previous half term.
The teaching of British Values is integral to our school's mission of ensuring our children are respectable and well prepared for their next journey in life.
The 5 key British values are:
Individual Liberty

Respect for the Rule of Law

Respect

Democracy

Tolerance of others, regardless of beliefs, faiths or lack of faith
The teaching and promotion of British Values however, goes deeper than individual 'lessons' – it embodies our school attitudes, ethos and the way in which we work and interact with children and families – including our 'Three Golden Rules' for behaviour.
Hits: 142